the Tumblr of the Blog www.aloveisblind.com photography by Sandra Semburg www.sandrasemburg.com
Follow my blog with Bloglovin

contact
about
BLOG
Ask me anything
March 14, 2014
Sabrina Meijer @ afterdrk
(Source: aloveisblind.com)
September 29, 2013
May 12, 2013
September 30, 2012
Outside Céline today …
August 22, 2012
One of those rare Berlin Posts … I was scouting locations today and ran across Loulou, I love her look, especially the print of the jeans and that red bag, nice colors for a sunny day.
Loulou works at a gallery at 'ehemalige Jüdische Mädchenschule', the former Jewish Girls School in Auguststraße which has been renovated and hosts beautiful galleries and restaurants now, I really reccommend you checking it out in case you are visiting Berlin.
Jeans: Current Elliott, Bag: Céline, necklace and tee: H&M, Shoes: Repetto, Watch: Rolex
August 7, 2012
Candice Lake in one of my favorite Céline skirts of all times, the fabric is really a piece of art. I love how Candice combines it with a bustier under a sheer t-shirt. The one she is wearing is by Willow, but where do I find one in berlin now ? It's really such a sexy solution underneath a very sheer fabric, well or for the right body a cool summer top.
May 4, 2012
today is a good day ! Even though I was woken up by my screaming neighbor again it doesn't matter, I'm so exited. The sun is out, Marc Jacobs is in town and I will have a chance to take some pictures and the Sartorialist twittered yesterday 'Berlin is on fire ! The expression of style is really strong here right now. …', should I care ? honestly, it makes me kind of happy, especially since I grew up here and have a kind of ambiguous relation to the city, thinking that style-wise we cannot keep up with cities like Milan and Paris and in general elsewhere is always better. You know what: my challenge for this year will be to love Berlin again !
And here you go with some happy prints on prints, colors on colors and arm candy in my favorite combination on amazing Elisa, Viviana and Tamu ! (still not from berlin but from milano)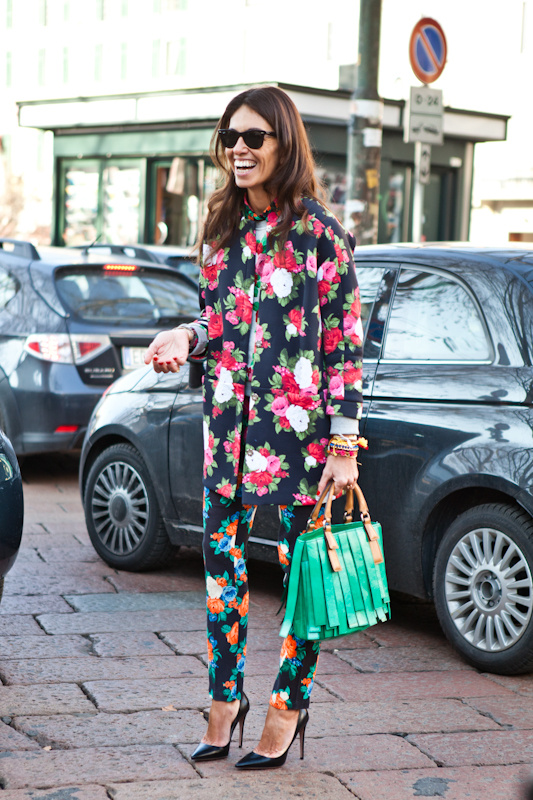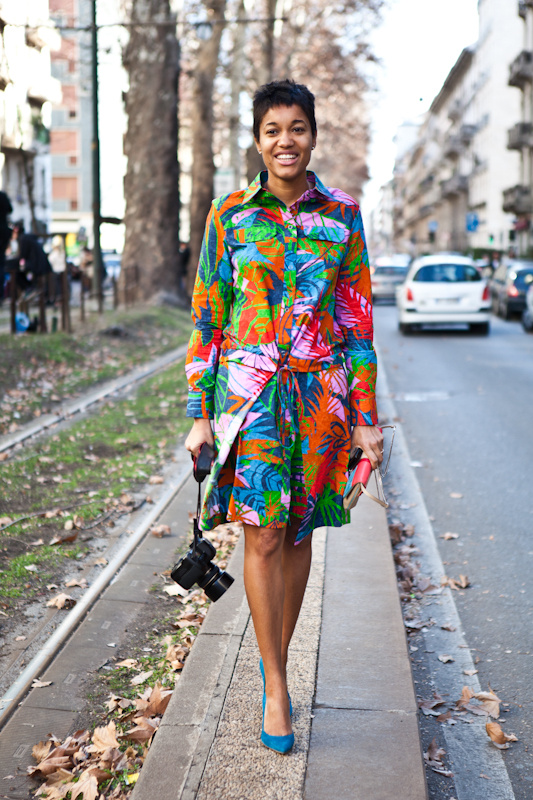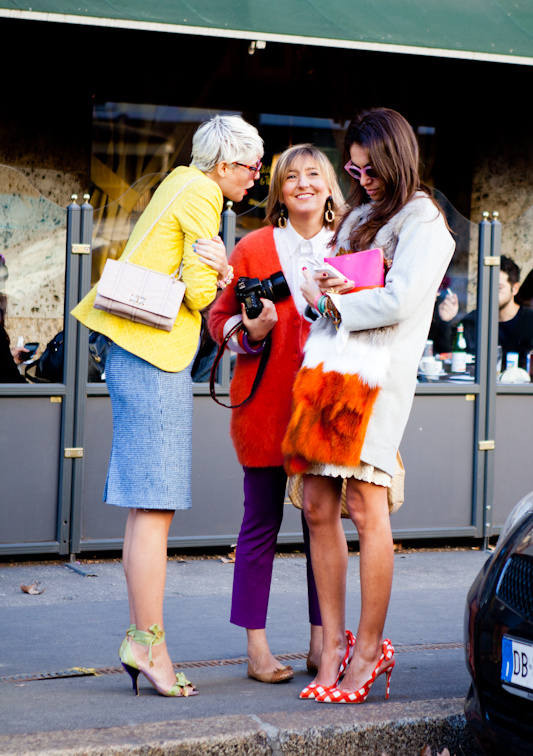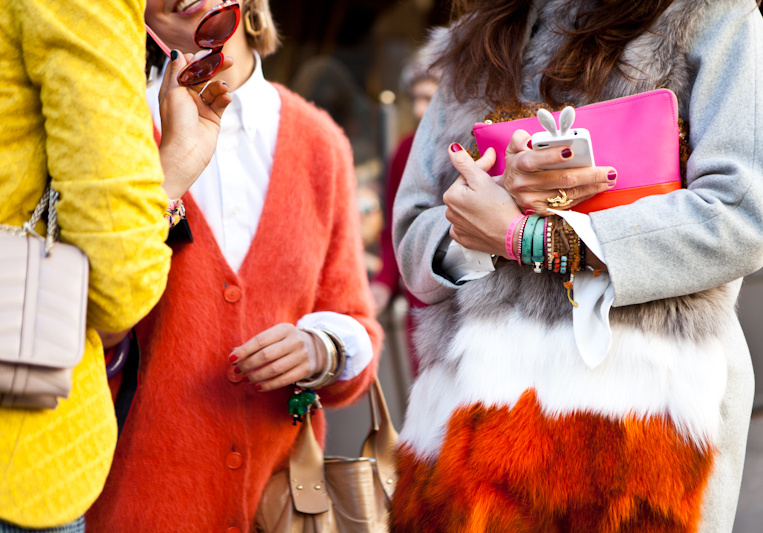 January 15, 2012
I have to admit, I've been a bit lazy the last month which this is soon to change with Berlin Fashion Week starting in two days. I'm glad that Grazia magazine asked me to shoot for them again, but I will say it's one of the toughest jobs in the year for me, I'm backstage and on the street, running to off-site events and have to send the photos the same day, so overwhelming. Related to that is one of my New Years resolutions, I need to learn to relax. Yoga, meditation, don't know yet but I have to get serious about this this year, no excuses. If anyone has recommendations especially for Frozen Shoulder, please tell me ! 
Of course I'm exited to show you some of my favorite designers from Berlin next week !. I've also been shooting Streetstyles in Berlin these days, I know strangely I hardly ever shoot in Berlin though I live here. I think there is great style here but you have to walk around for hours sometimes to get one shot and also this city isn't exactly known for the sun. So I was even happier when I spotted Gesine yesterday on a sunny day. She was on the typical saturday stroll through Mitte and told me she is a Fashion Headhunter (what is that exactly ?) The blue Céline bag is a dream and goes so well with the all beige outfit, don't you think ? She also really pulls off the short hair, such a cute look.
December 15, 2011
adding some fun with strong color and neon details
December 14, 2011
the marine coat by Céline