the Tumblr of the Blog www.aloveisblind.com photography by Sandra Semburg www.sandrasemburg.com
Follow my blog with Bloglovin

contact
about
BLOG
Ask me anything
March 18, 2014
Hanneli outside Rag & Bone
(Source: aloveisblind.com)
February 12, 2014
(Source: aloveisblind.com)
June 4, 2013
November 19, 2012
some of my favorite Street-Style moments ever ? Hanneli and Tamu last Fall in Paris in matching mustard colors, besides, Hanneli's color blocking here is perfection, I love those burgundy pants and the silver shoes …
October 12, 2012
Hanneli at Places des Vosges in head to toe Valentino. 
The Valentino show was probably my absolute Highlight of Paris Fashionweek, the dresses  turn women in to a modern Princesses, the collection really makes me dream …
You can see more on Style.com.
October 3, 2012
It was the last day of fashion week today ! It is such a déjà vu, just 6 months ago the season ended with the highlight of the Louis Vuitton and Miu Miu shows on the last day, was it also raining ? I am happy but also a little sad, it means saying good-bye to lovely friends like Hanneli who wore this amazing Miu Miu mirror skirt today. That's the way to end the season on a happy note, those little mirrors look amazing even on a rainy day like today …
and tomorrow it's back to Berlin for me, you will see many more pictures in the coming months, and my relaunched blog site very soon …
September 27, 2012
Hanneli outside of the Grand Palais in Paris today, looking like a doll yet dressed for the weather, ooh yes, looks like we're enjoying Paris in the rain this week …
The fantastic coat is by Acne and bag by the Row
August 28, 2012
Hanneli gets me every time with her minimalist looks and interesting but wearable combinations. I am secretely dreaming of going shopping with her or getting some style advice.
Who would think of combining pale blue with burgundy, she does it all the time, so fresh looking also with the white shoes. Pale blue/burgundy, I will have to try that out sometime or do these looks simply work on someone as pretty and slim like her ?
May 30, 2012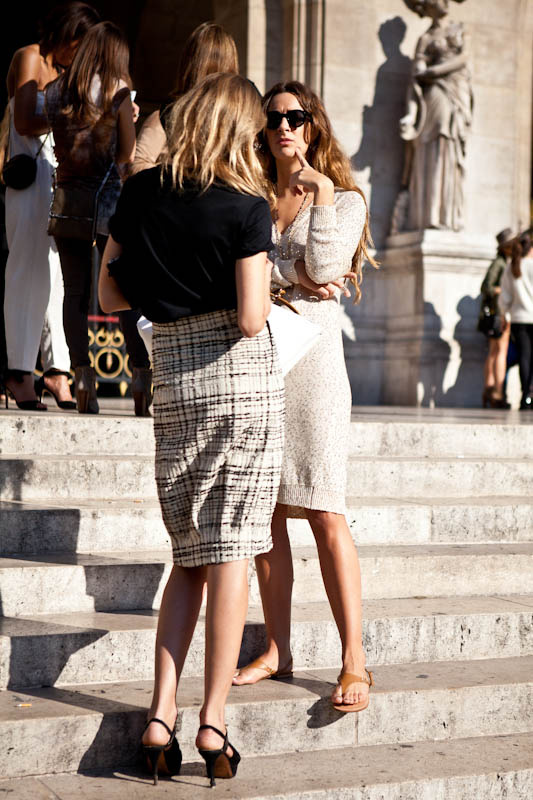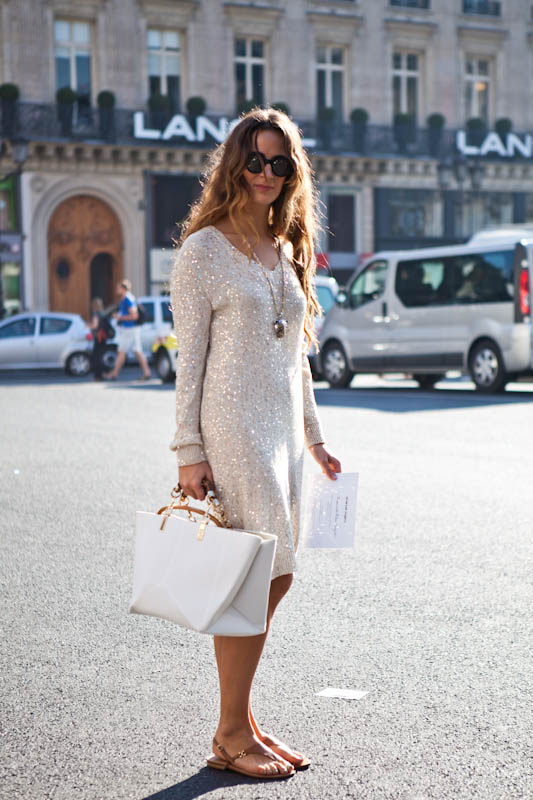 nothing prettier than a sparkle in the shining sun and I love the shape of the white bag and the fact she's wearing sandals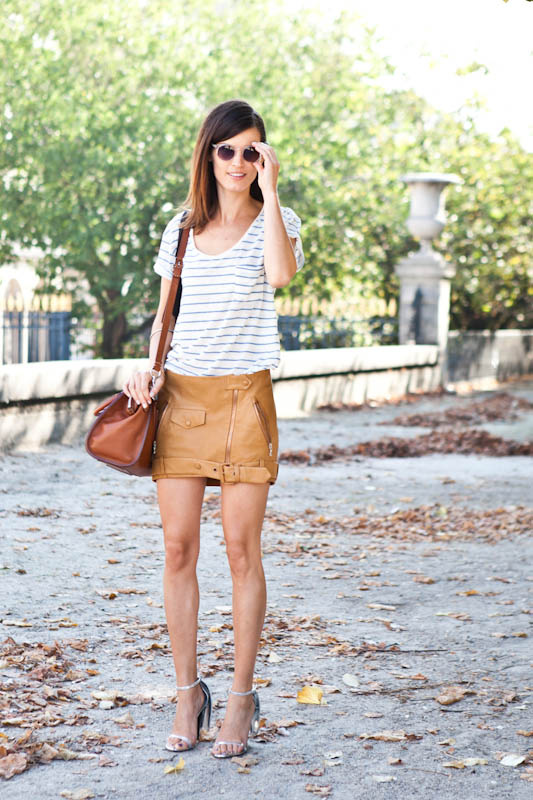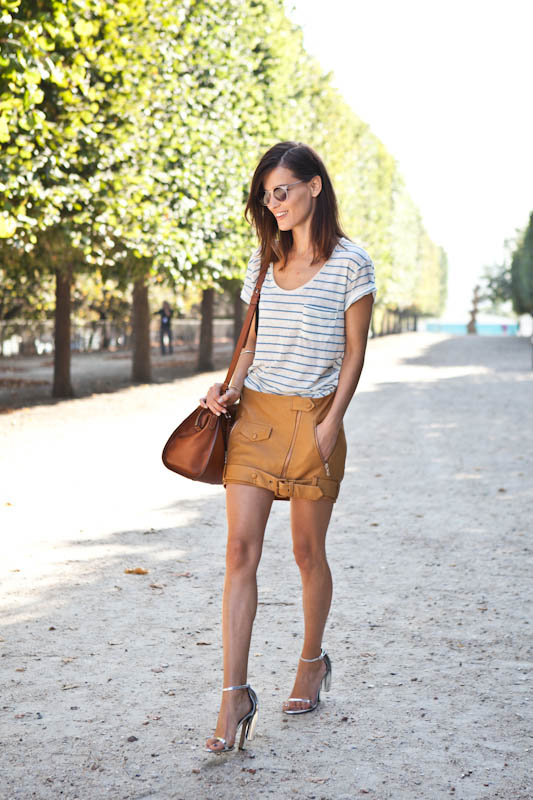 Paris ! I am almost ashamed to be traveling again, but I had booked this trip a long time ago and was planning to take some photos, meet some people and maybe even scout this city as a possible new hometown. Then yesterday I was totally not in the mood anymore, I just kind of wanted to settle in Berlin for a bit and on top I had another sleepness night over my other aloveisblind story, yes, a man, I will maybe tell you about someday … yadidyadi… I am here and I took a nap and I'm so happy to be in Paris :-)! The place gives me great energy right away and after my fashion vacation detox it is so exiting to see how well people dress here and it's summer heat ! So here are some cool Parisian pictures for the weather still from FW for now …
May 11, 2012
I can't get enough of Hanneli's style, everything from the shoes to the varsity jacket is so well chosen and special. I'm in love with the Valentino clutch anyways, I'm mean what a nice concept to slip your hands under that studded hand-strap … and the Proenza Schouler necklace could work in so many ways, I would love it just to make my daily jeans and sweater look more interesting. Hanneli also really turned me around on 'baby' blue which she admits is one of her favorite colors. I don't know many or any women that say they like 'baby' blue but she's right, it's such a flattering color !