the Tumblr of the Blog www.aloveisblind.com
photography by Sandra Semburg www.sandrasemburg.com

contact
about
BLOG
Ask me anything
June 4, 2013
September 8, 2012
My favorite Bloggeuse ist still Garance Doré and I was happy to see her outside the Prabal Gurung show today. Her looks are never really over the top but super tasteful and chic, I love how she mixes elegant and sporty here, I really think that's the way to go for in the city especially the flat shoes. I am looking for a skirt shape like this to add to my wardrobe, I find it so charming and it does work with heels and flats.
I would love the Stella one, but I also love this T by Alexander Wang which is not as pricy, any other shopping advice ?
skirt: Stella Mc Cartney; Blouse: Joseph; Shoes: Prada; Bag: Reed Krakoff
September 8, 2012
woaah, first day of fashionweek in New York for me ! It was a super hot and muggy day, really like an outoor sauna, but the great outfits and energy of the editors and photographers kept me going … and Starbucks Iced Coffee.
Here is one of my favorite looks of the day, a black dress with swans, sparkly sunnies, some purple tipped hair and the lovely smile of Eva Chen, just the right attitude for this day. Eva is the Beauty Editor at Teen Vogue and I have been following her tumblr for a while now, she always comes up with amazing fashion finds. I was also impressed to listen to her at the IFB conference about the business of blogging, she is super smart and witty, great to finally meet her.
Dress: Marc Jacobs; Shoes: Prada, Sunglasses: Miu Miu; Bag: Loeffler Randall
August 20, 2012
I know I am reposting this … I was really exited to see this photo of beautiful Tamu McPherson on Vogue.com , we took this almost a year ago in Milan and it is still one of my favorite pics, I just love that classic black Prada dress and here on the second picture you see how nicely it swings…
please also check out the Social Shopper on Vogue this week with another picture I took and some great shopping advice from Meredith Melling Burke
March 25, 2012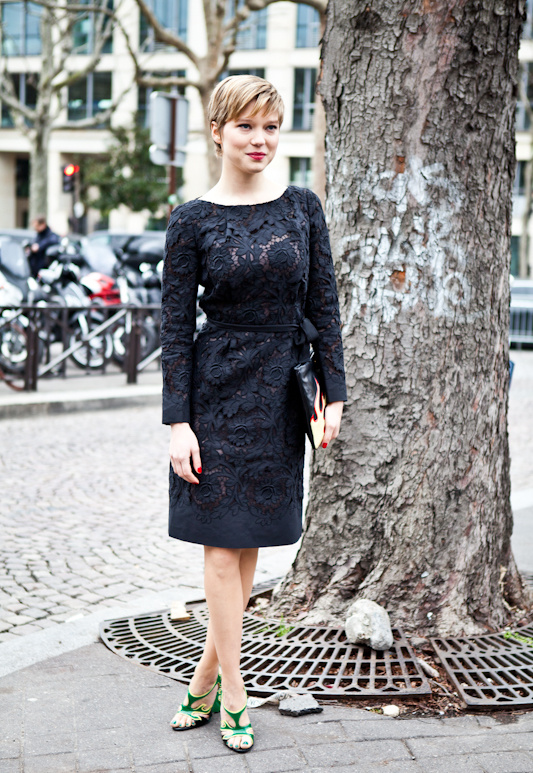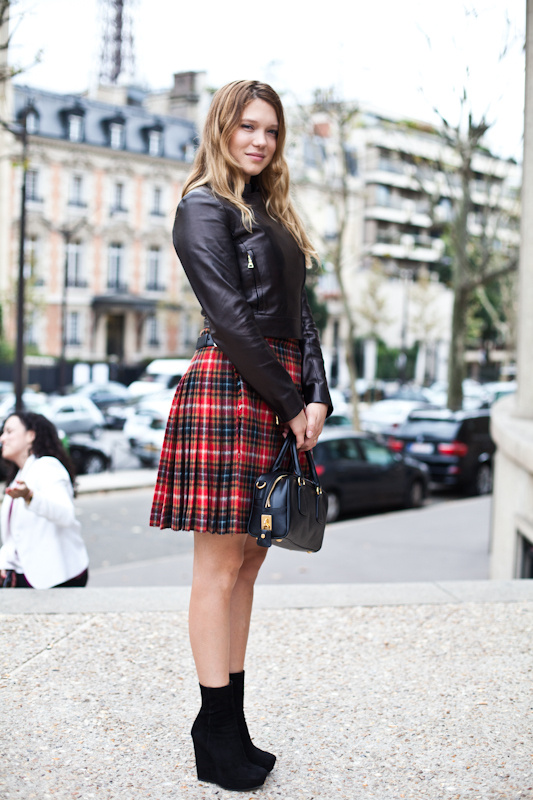 I might have mentioned how adorable and stylish I find the French actress Léa Seydoux. I photographed her in October outside the Miu Miu show and of course this year she showed up again like so many young French starlets do to the Miu Miu show. Not only was it really easy to approach and photograph Léa last Fall, this year apparently the paparazzi did their job and she was quickly surrounded by cameras and flashes but the biggest surprise was her short hair !! And I can't believe how amazing she looks, especially me who is not the biggest fan of short hair, I am amazed how feminine, pretty and elegant it makes her, maybe also a bit more mature in a good way. Love her, both long and short hair. Oh, and the Prada flame shoes ;-) and green toenails ;-)!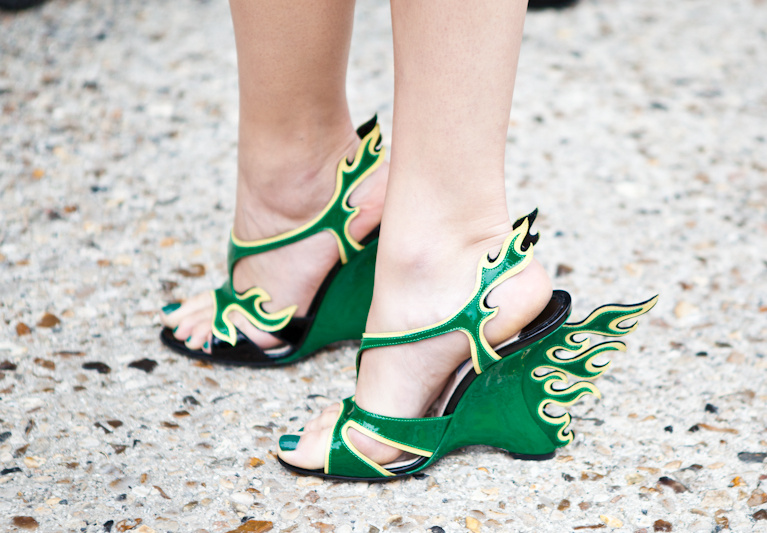 February 23, 2012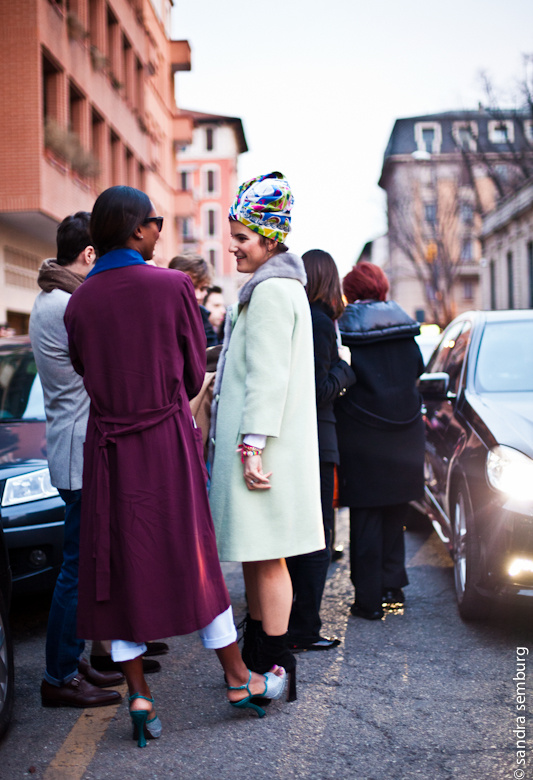 this is Carolina, the adorable niece of Miuccia Prada outside the Prada show this evening in milan, showing of a beautiful headpiece of the collection.
Unfortunately I saw the show only on my computer afterwards after giving up the idea of bribing the door guy (just kidding of course), so there are still some dreams to come true … I really loved the show, what did you think ? It's amazing how every time she comes up with something fresh and new and interesting.
off to bed, 6 hours away the alarm will call me for another backstage call
December 13, 2011
I really want a marine coat. I love this look of Shu Pei Qin with the glitter Chanel bag and easy Prada shoes.